Plan Your Next two-wheeled Adventure with Bikerbnb
We built Bikerbnb because we know how hard it is to plan the trip of a lifetime on two wheels
Since 2018, our dedicated team has successfully delivered curated motorcycle escapes in Scotland and Spain
a new adventure platform for motorcyclists

Do you want to take the difficulty out of planning your next big ride? Don't worry about whether you're hitting the best sites and stops - our team of experts have crafted two adventure series across Scotland and Spain for all types of riders.

We offer bespoke adventure tours across Scotland featuring the best of the Highlands and Islands and the Spanish region of Catalunya. Self-guided tours and motorcycle hire from Edinburgh, Scotland are available from our headquarters at Saltire Motorcycles.

Ride the best routes across Scotland and Spain with Bikerbnb. We offer only the newest motorcycles from Royal Enfield, quality riding gear from manufacturers like Fuel Motorcycles and unforgettable food, drink and stays.
events + rentals across scotland & spain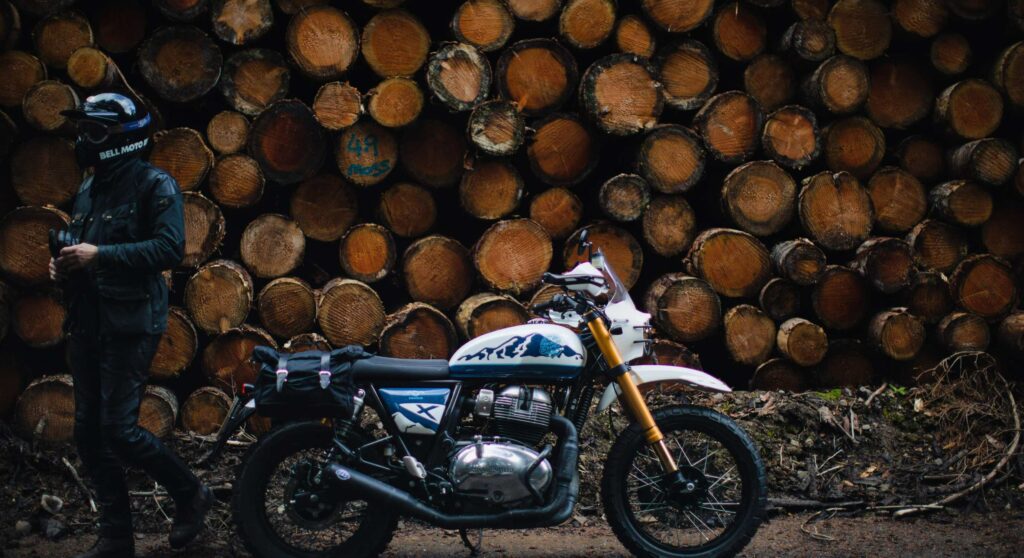 two unique locations - many options!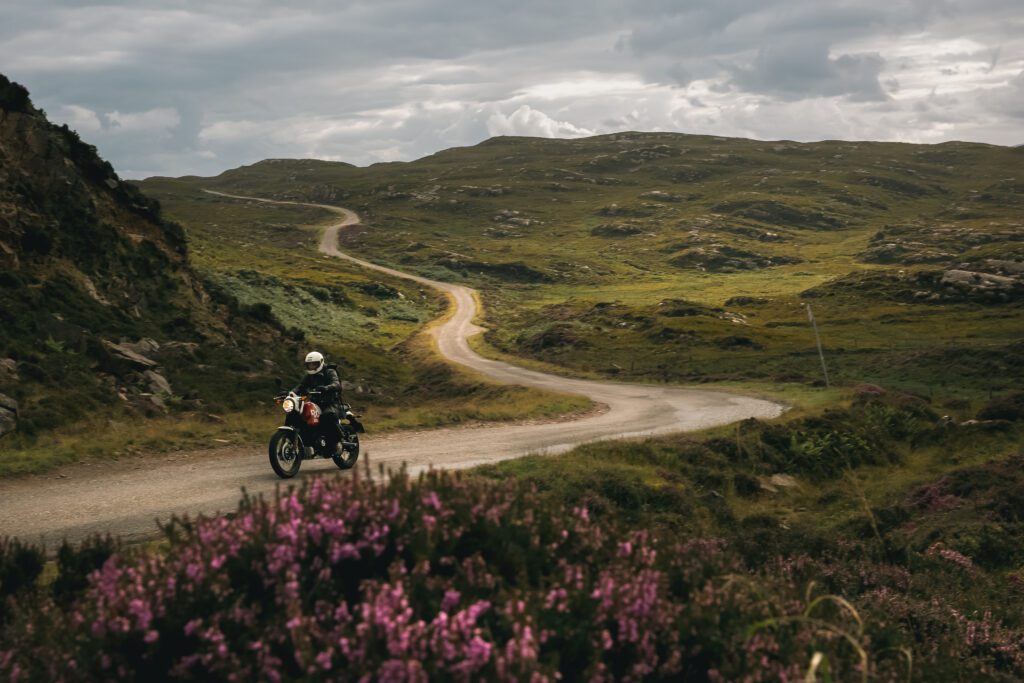 two unique locations - many options!
Highland scramble motorcycle tours
Bikerbnb's The Highland Scramble is a guided motorcycle experience that covers roughly 1,000 miles across the north of Scotland over five days 
From April through September, we run The Highland Scramble, a curated events series that features not only the best riding that Scotland has to offer, but also the best food, drink and motorcycle-friendly accommodation. Our Scottish adventures tours start and finish in the capital city of Edinburgh at our workshop inside Saltire Motorcycles. Here, you can collect your bike, get suited up for the adventure and meet your fellow riders and ride leaders.
Each experience is thematically designed and offers something unique. Check out our classic North Coast Traverse if you want to see a wee bit of everything, the Island Traverse for a special island-hopping adventure on the wild west coast of Scotland or the Deluxe Traverse for an up-market holiday featuring Scotland's finest country houses.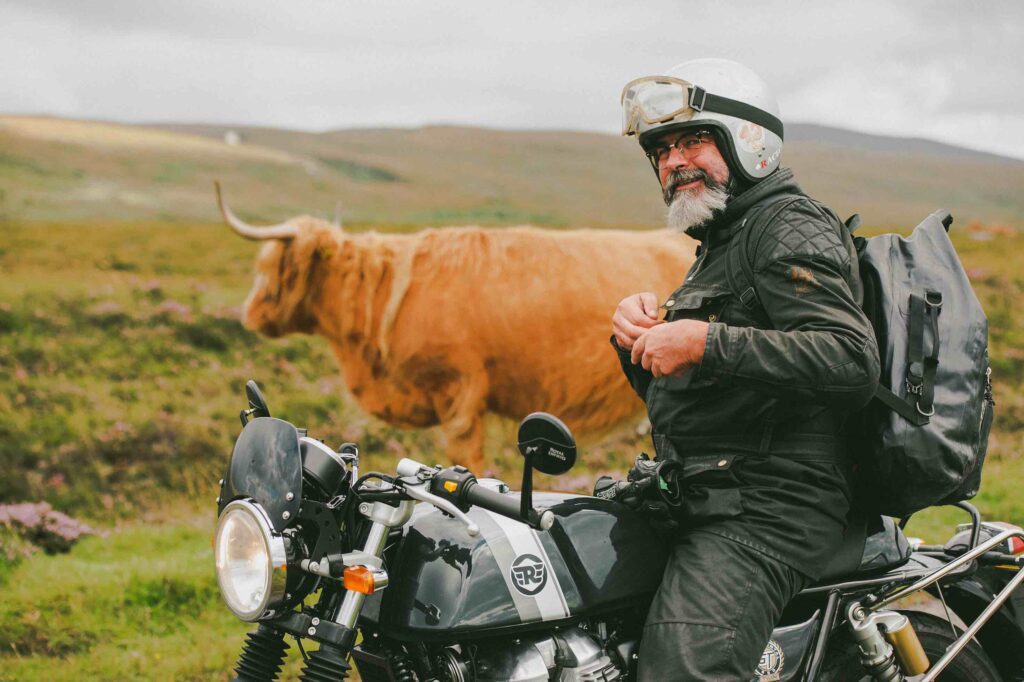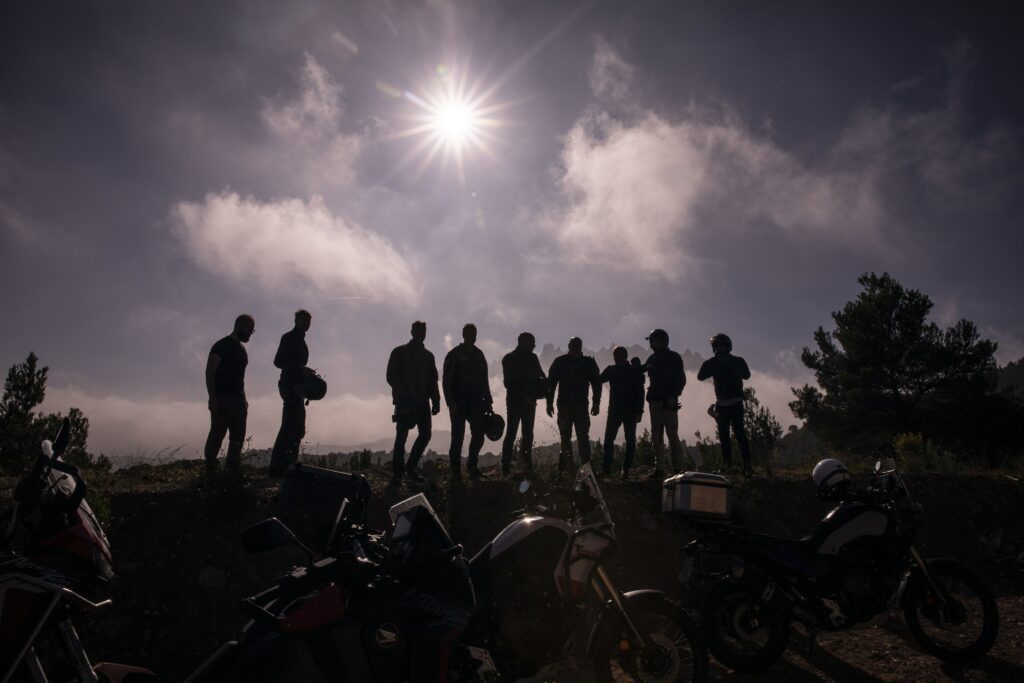 Iberian Scramble motorcycle tours
Bikerbnb's The Iberian Scramble is a guided motorcycle experience that covers 800 kilometers across the Catalonia region of Spain over five days
At the start and end of each riding season, the  team at Bikerbnb packs their bags and heads to sunny Spain to run The Iberian Scramble. Our Spanish rides start and finish in the capital city of Barcelona and travel north along the coastal region of Costa Brava into the Pyrenees for some high altitude alpine adventures. Just like our Scottish rides, you'll be sure to find what we do off the bikes is just as important as what we do on the bikes: good food, drink, and again, the best stays across Catalunya. 
This season we are running four events: a special Spanish Lassies Scramble, our classic Catalunya Traverse that offers a unique overview of the country from sun-swept beaches to mountain passes and lastly our Trails Traverse – a special off-road oriented adventure. 
Self-guided motorcycle Rental
From our Edinburgh, Scotland headquarters, we have a fleet of Royal Enfield motorcycles to support your adventure in the Scottish Highlands
Bikerbnb is an official Royal Enfield experience partner. This means that we work closely with Royal Enfield – the world's oldest motorcycle manufacturer – to equip our riders with some of the best bikes for exploring the north of Scotland. Our fleet includes the award winning Royal Enfield Interceptor 650 and Himalayan 411 – both are ideal for long distance touring and adventure. Our bikes are insured for riders from all over the world and are well maintained to ensure a safe and reliable excursion.
If you are unable to bring your riding gear with you, we have helmets, jackets, trousers, gloves, panniers, phone mounts and more for hire from our shop to ensure your safe and comfortable travels.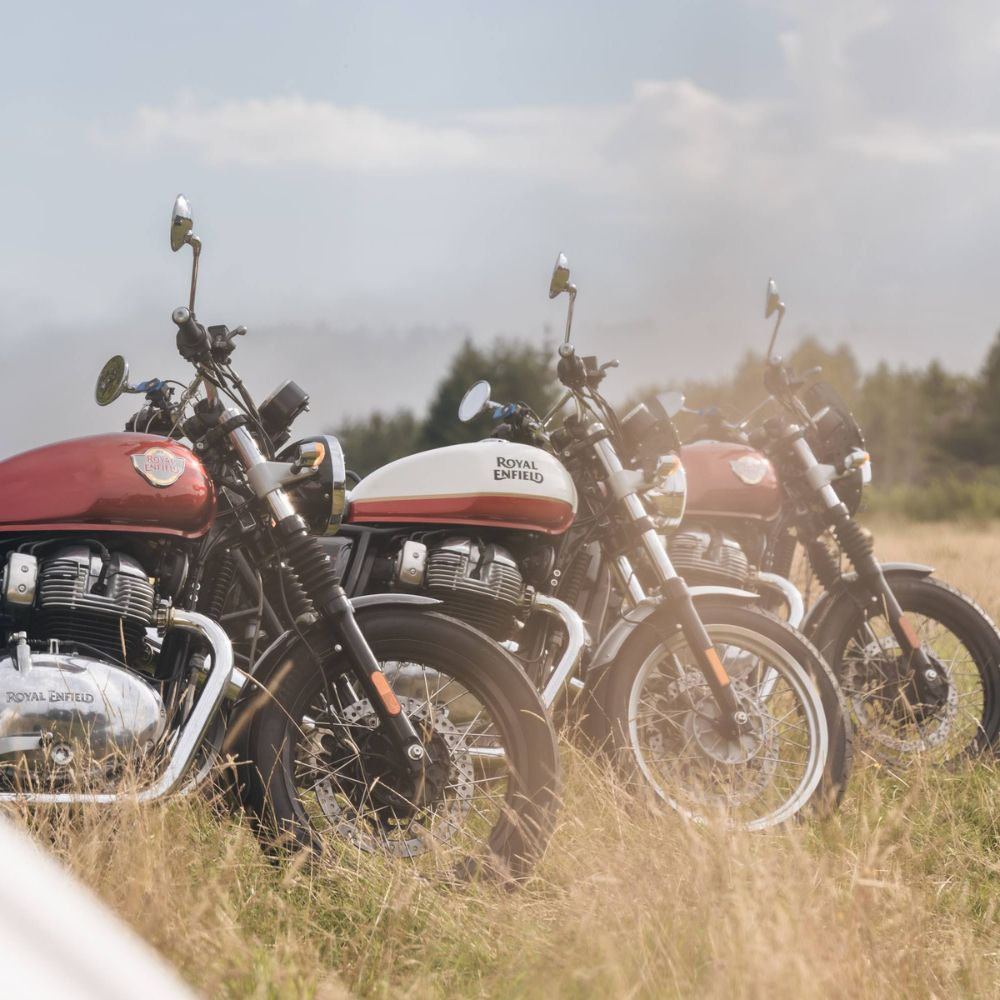 different routes & rides for all types of riders
motorcycle rental from Edinburgh
bikerbnb Adventure diaries
Stay up to date with our latest offers, where we are riding and upcoming events
Ride reports from the the Highland Scramble, Iberian Scramble and Edinburgh motorcycle rental
"Can't describe how incredible this trip was. The riding was world class, the accommodation were incredible, and the staff was the absolute best. The other riders we met are now incredible friends. If I could give 10 stars I would!"
"Incredible roads, scenery and accommodation on the highland scramble. Staff were all super friendly and knowledgeable. One of the best experiences of my life, will definitely be back!"
"Remarkable! Trust, from a rider of over 21 years in Southern California and all over the beautiful west coast of the US that these guys put on one well-priced bang-up experience through stunning countryside, on unique technical backroads to viewpoints and destinations it takes locals to know. If you can, do it. If you can't right now, save for it then do it. Trust me that this team will not let you down. They care and that's hard to find."
"WOW!! What an amazing trip, start to finish the guys knocked this out the park. Well organised, amazing accommodations, great food, massive anoint of riders for the first one 23 in total I think it was. Oh and the roads!!!! Never been on so many twisties. Just bloody fantastic all round. Looking forward to doing it again next year. Thanks again Biker BnB team. Great job!!!!"
"Stop reading this and book your trip. I've lived all over the world and traveled quite a bit with work and personally and this is one of my all time favorite trips. The staff are great, the ride is beautiful and exciting, the stays and food were top notch, and Steve's knowledge of Scottish history and the castles we saw was really great."
"I don't think I've ever been fed better, or laughed harder in my entire life. The scenery was incredible, daily routes exciting, and our hosts were the absolute best I could have asked for. Can't wait to use bikerbnb for more future adventures!"
We are proud to work alongside our official ride partners to deliver some of the world's best motorcycle experiences

We are proud to work alongside our official ride partners to deliver some of the world's best motorcycle experiences