The group spent a few days in London obtaining visa's for Iran & Afghan. They got the visa's easily, but the bikes were causing some issue's and delays.
Stewart's clutch cable broke, Mark's bike wouldn't start, Roy's gear box started whining, new tyres were needed as the current ones were disintegrating, and they got soaked from the elements.
The next leg of the journey was to head to Harwich to get a ferry over to Hoek Van Holland.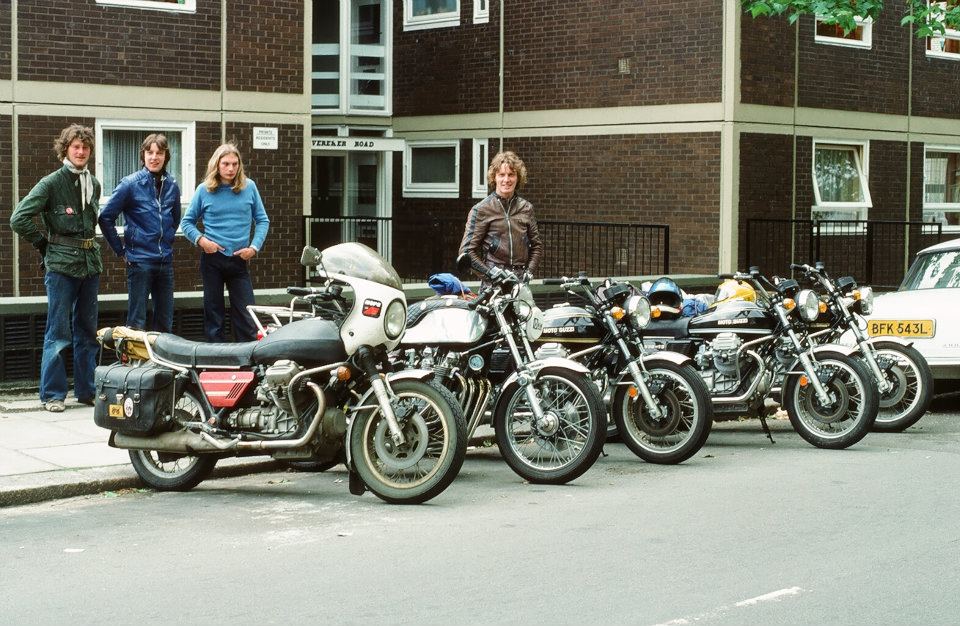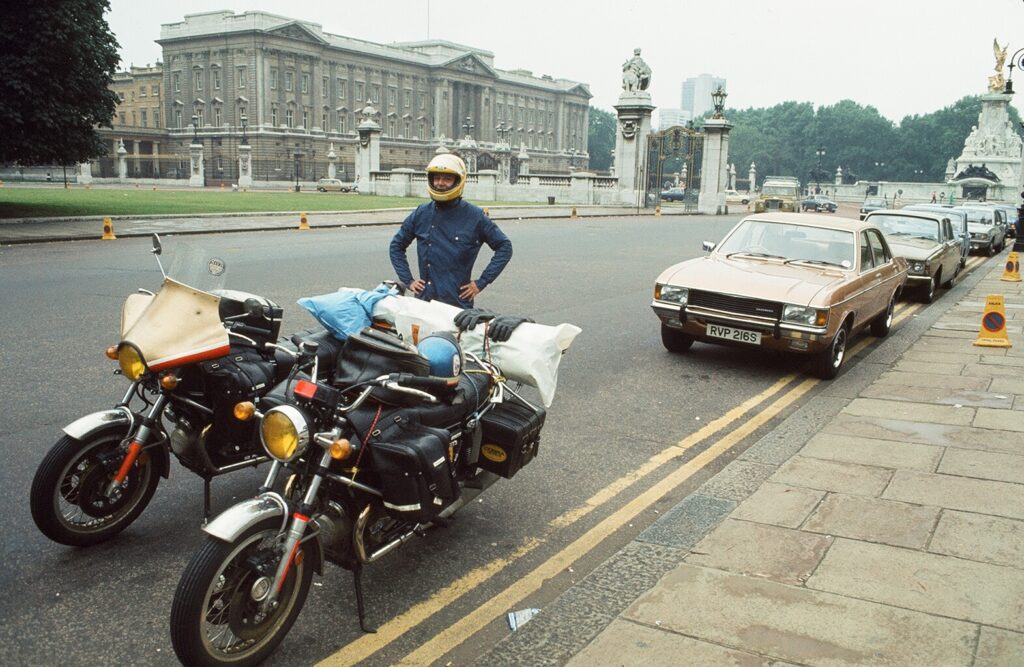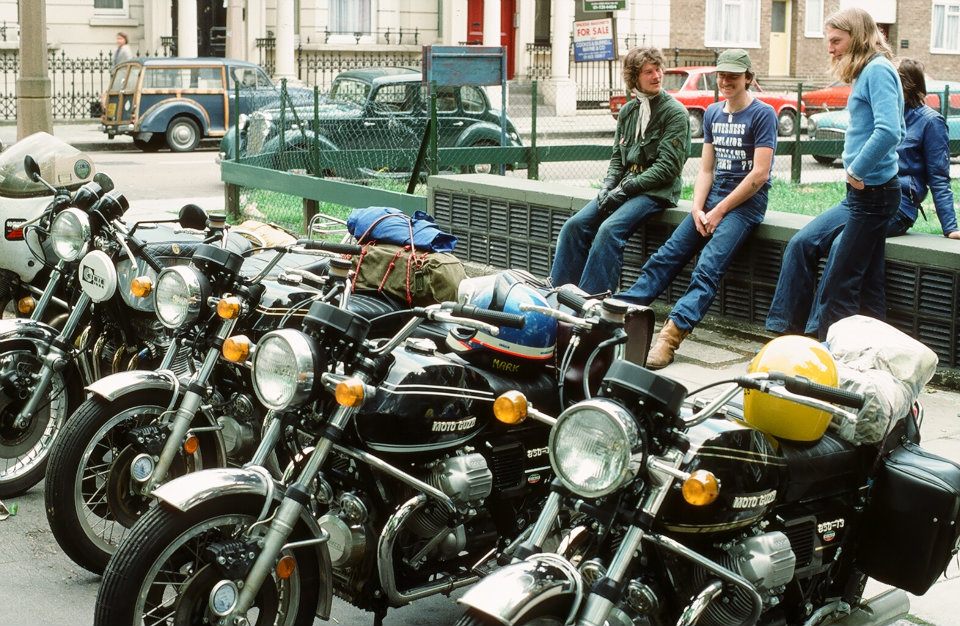 The Diary entry reads as:  August 15th 1977 – 'The bikes are packed and resembled over packed mules. Next stop Harwich to get the Ferry over to Hoek Van Holland. It was a good run down.'
During the leg to Harwich they got lost, Shaun made it just in time, he was delayed due to his helmet being nicked in London.
'Riding through Holland – it's a bit cold. Stews clutch cable broke, luckily we had a spare from London so we did a quick change. Feeling calm about the trip, so far feels like driving down the road.'
5333 miles.
18th August 1977 – It lashed down all night, Stews helmet filled with water. My gearbox begins to whine again! We made the car park, look like a tip – airing tents. Came down autobahn with throttle locked. Mark's spare helmet flew off the back of his bike. Lost.' 
5520 miles.
'Had a great run up the hills near Schnwald, very spectacular scenery. We searched for a camp site, eventually found one and cooked up some grub. The sun was shining so we managed to get dry from last nights downpour. Shaun pinched some apples. Today I was paranoid about my bikes and kept hearing noises.'
19th August 1977 – 'Once again we got pissed upon! Woke up to pouring rain and we are well very wet! Rode through some lovely scenery, skidded on white lines. Crossed the Swiss border around noon. Stew got searched and the guard winced at his dirty washing. Enjoyed lunch in Davos. Amazing alpine scenery.'
5934 miles. 
'Another great drive to the Italian Border. The customs officer was all smiles at the sight of the Guzzi's! Lichtensiten was full of solidiers and horses. Blinked and missed it.'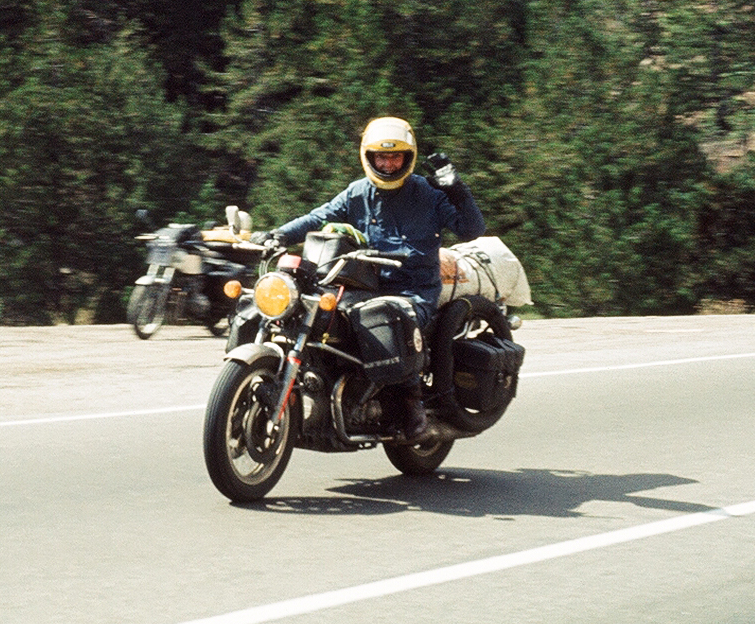 20th August 1977
'Woke up and guess what? It wasn't raining. We decided to stay and rest. Made tea and true to form about 10.30am it started to rain! One of the campers, said that two days ago the site was flooded. Hence, broken vines and olives on the ground etc. I've just cleaned my boots, we then packed up and left. As we started up, LSA77 (Shauns bike) made a god-awful noise! Shaun started to strip his bike and we made for the rally in Rovereto. Made camp in the pissing rain, Stew lost his keys! Sitting in the clubhouse just now. Mark and Stew have gone to pick up Shaun in a van. Rain is still pouring down. We all feel very pissed off! Mark has come back, they reckon Shaun's gearbox has gone, so it is going to be put bike on train to the Guzzi factory. In the meantime, Stew and I pissed it up with a relation of Augustini's, he had a fantastic Guzzi café racer. Went off for a meal and writing this before ordering meal and several large beers. Just wrote to Pam and tell her about guys goggling at her photos.'
21st August 1977
'Last night, Mark and Evan tried to arm wrestle good Giacano he beat them both. Gave him my Jubilee badge. Pissed down all last night and doing so now. Last night was a heavy session, paying for all the beer now. My bike fell off its stand. The Italians are the friendliest people I have met since leaving home, they are all really interested in bikes! A great place. Gave Evan my claymore badge he gave me two medals this morning, and took photos. I rode his 50cc Bonelli last night. I am now at the rally. Free food and wine bikers here, fantastic atmosphere lots of glasses. Went back to club bar all steamboats, especially Shaun. Had the mechanics little boy on my shoulders. Filled a trophy full of wine, blazing!!! Great crack Italians are magic, steaming.'
ROVERETO BIKERS RALLY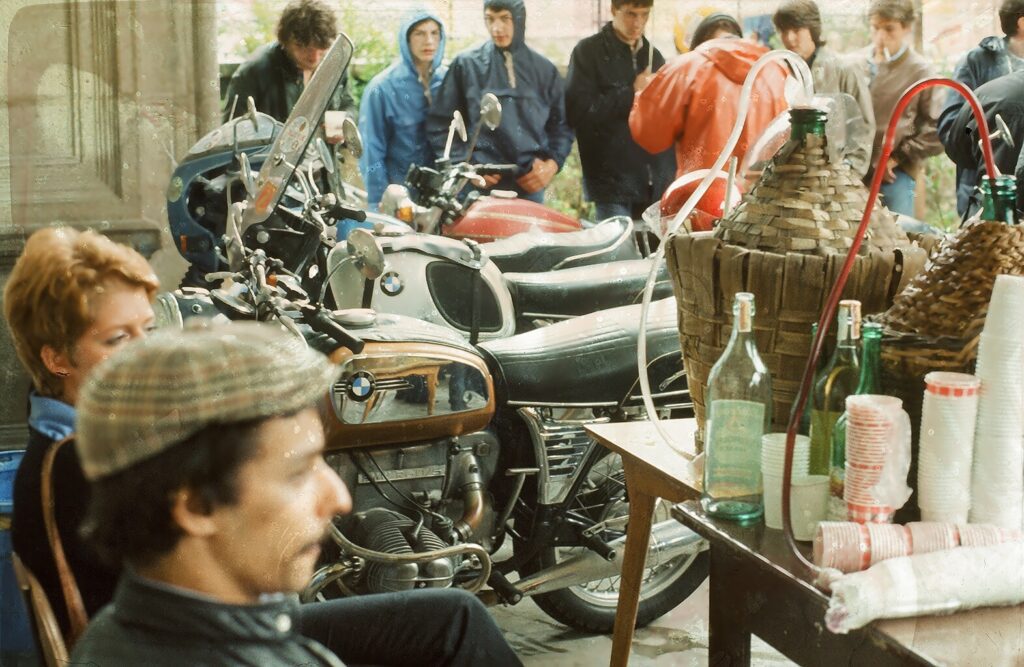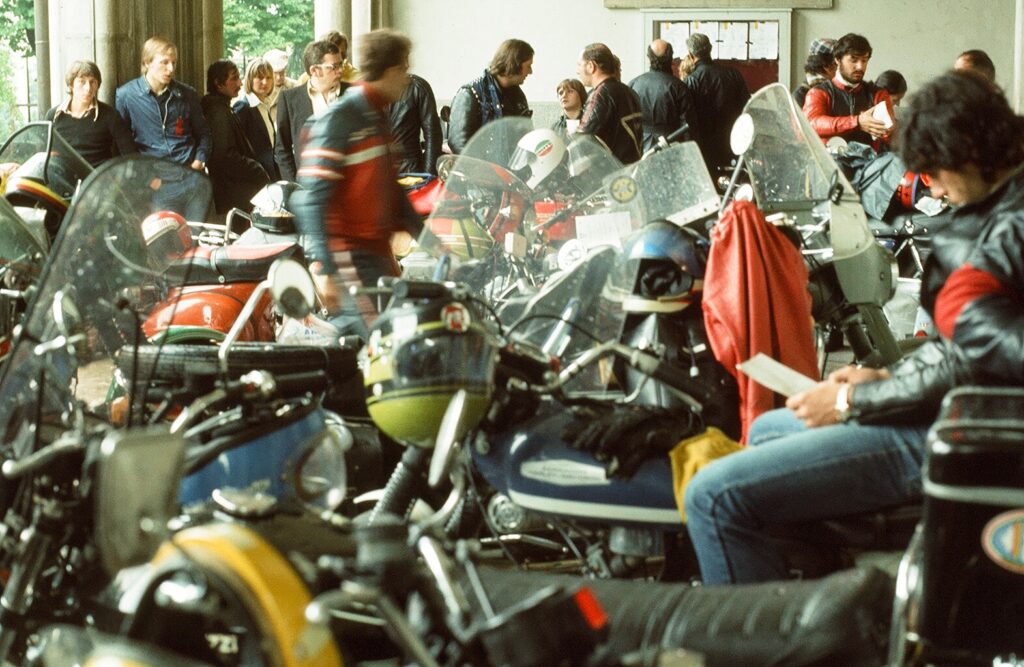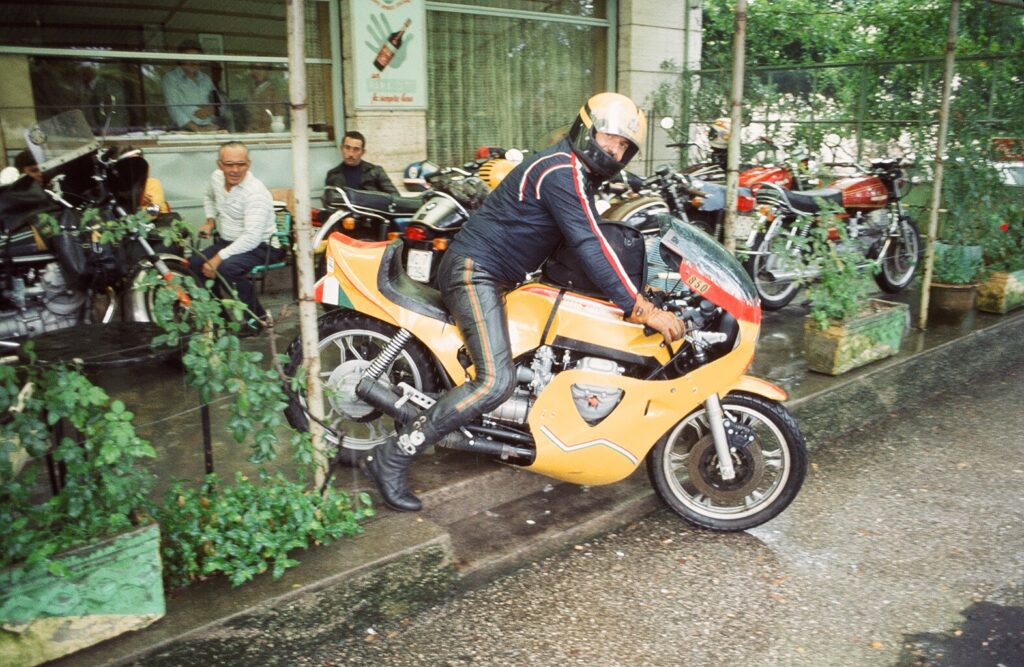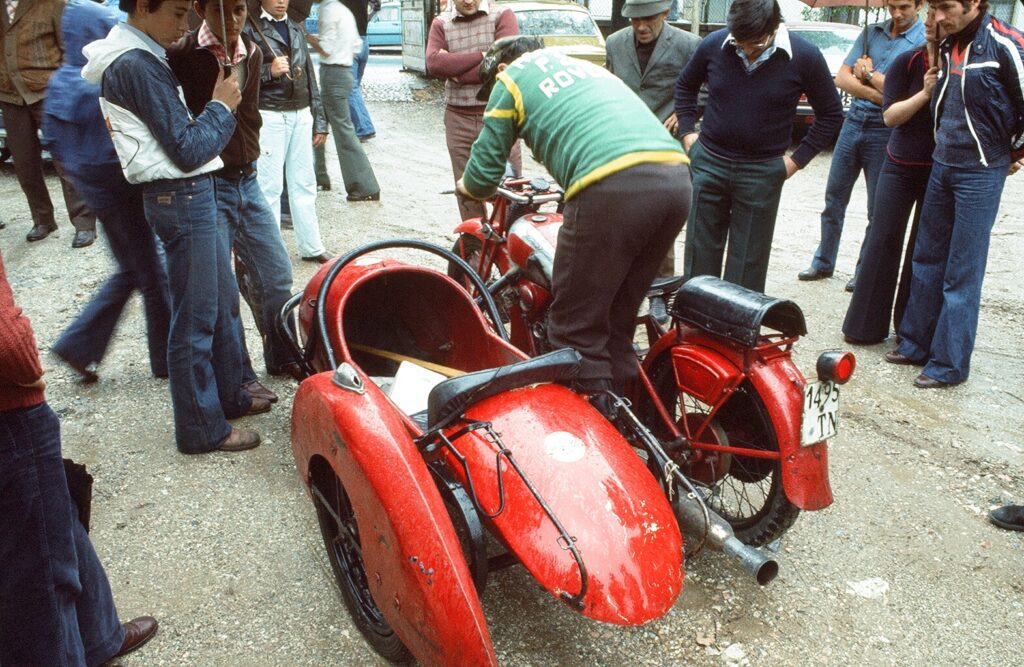 22nd August, 1977. 'Last night was pretty insane! rode a 50cc scooter and pulled wheelies. Walked into town back to the club with trophy fell over and hurt my knee and dented the cup. The rain has stopped. Italians have caught on to our routine, they made us a jug of tea.'
6184 miles. 'Drove to Verona then hit the autostrada. Did 100 miles, then a stop for gas, everything is very flat around here.'
6307 miles. 'Great run down the Acquapendente, fantastic roads lots of hairpin bends. Arrived at our base and everyone was freaked out. Really glad to see Rod. Sitting in an armchair just now scooping it back.'
23rd August 1977. 'Unfortunately we can't stay here so we went in search for a deserted farmhouse. We scrambled the bikes through 7 miles of dirt roads, which was pretty tricky and challenging in places. We spotted two farms, but the fields around them had live stock in them, eventually we found a flat spot for camping. Walked around and saw another house within walking distance, so we walked up through undergrowth to try our luck. The house was uninhabited but we couldn't get the bikes to it. It's been raining the whole time!  We found a great rock pool in a stream, so we took some time for a wash. Decided to move on, so we drove 60 miles in the pouring rain. Enjoyed a meal on the shore, drank mucho's wine, came back and crashed out.'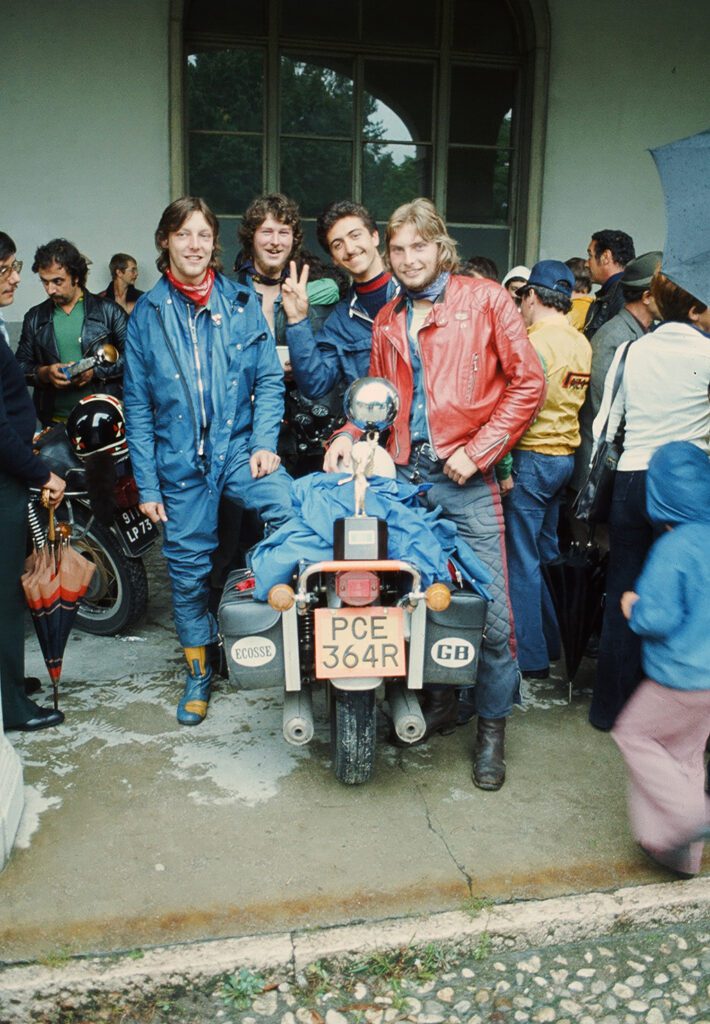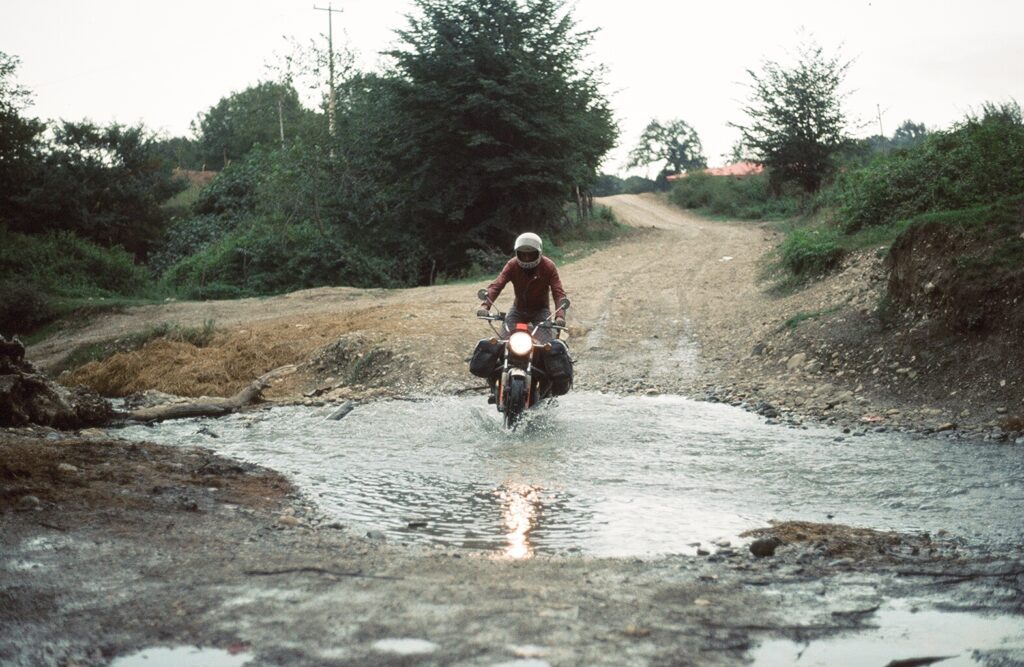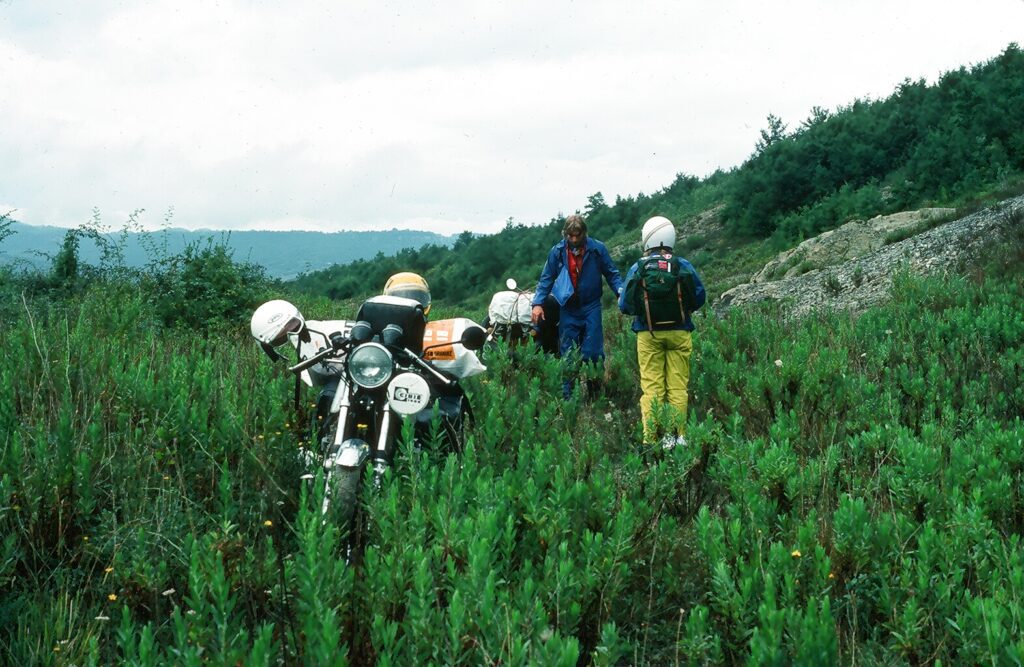 24th August, 1977 – 'Woke to sunshine, which is really amazing! Washed and aired all the gear, finally. We fetched water and arranged the bikes to get cleaned. Wrote some letters to home and then headed back to town and got a crewcut. Head feels great! Had bikes cleaned with pressure hoses and tires blackened – The works! They look really good. Came back and lazed around. In the process of making a curry.'
25th August,  1977 – 'We woke up to more sunshine and started work on bikes. Stew accidentally sheared an oil bolt and I spent the afternoon looking for a new one and eventually got one made up. Came back and packed our gear, my bike fell on soft tar, smashed indicator and mirror!. Drove up into the hills and made a camp in a field and had a bottle of martini and then went to bed.'
6498 miles  –  Roy's bike  | 6505 miles – Mark's bike
26th August, 1977 – 'Woke up to the sunrise, left camp and drove to ancient town Patigliano and had some beautiful coffee. Went to Aqua P and learned that Mark and Shaun had arrived after collecting Shaun's bike from the Guzzi Factory in Mandello, and they were camping at Lake Bolsano, so went up and joined them and made camp. Spent great time in the lake on the Lilos. Shaun is making some tea. Changed the brake pads and rear disc, they were really knackered after 6500 miles. Mark did also. Generally lazed and swanned about, Shaun tried sailing on one of the Lilos. Took photos of the lads doing every day sort of things and then sewed up my Levi's. Tried to sort out the gear and ended up just not knowing where anything is. We are having tatties for tea. Had tea blackberries and six bottles of wine and we all crashed out.'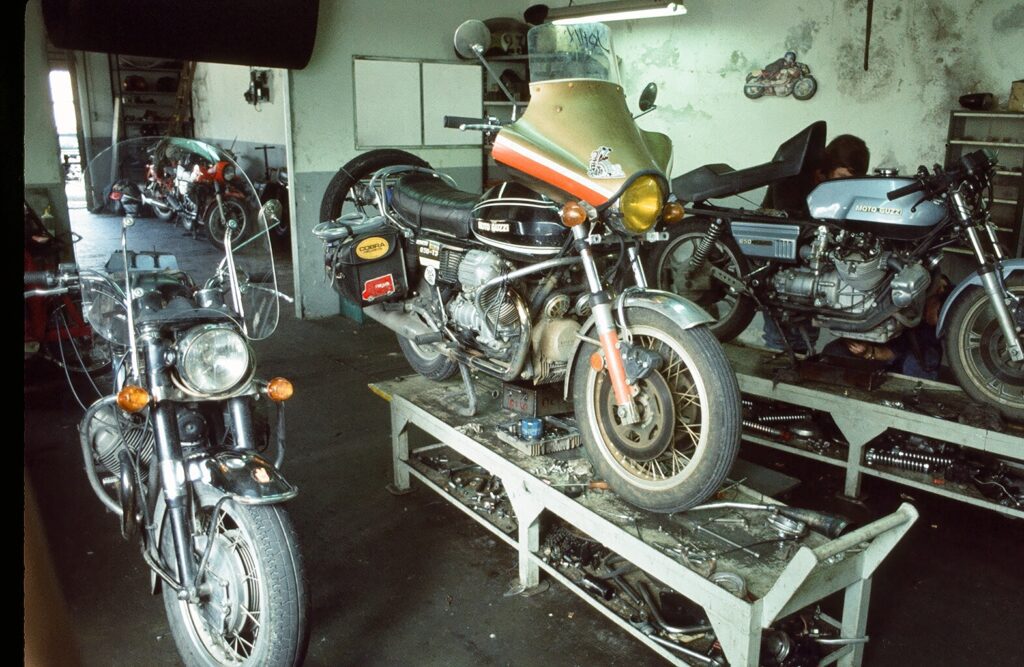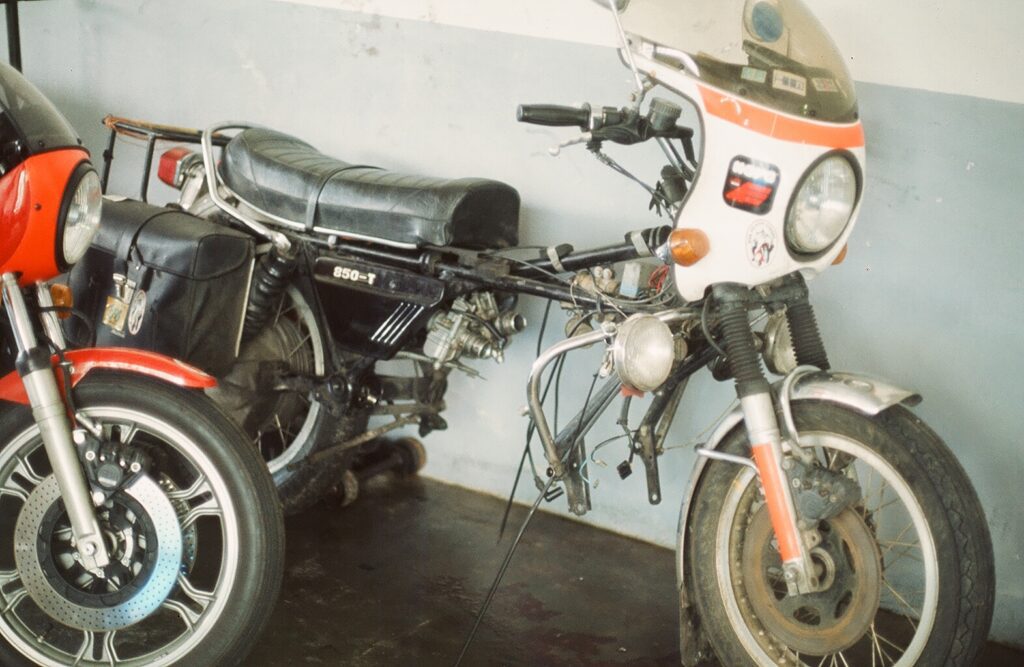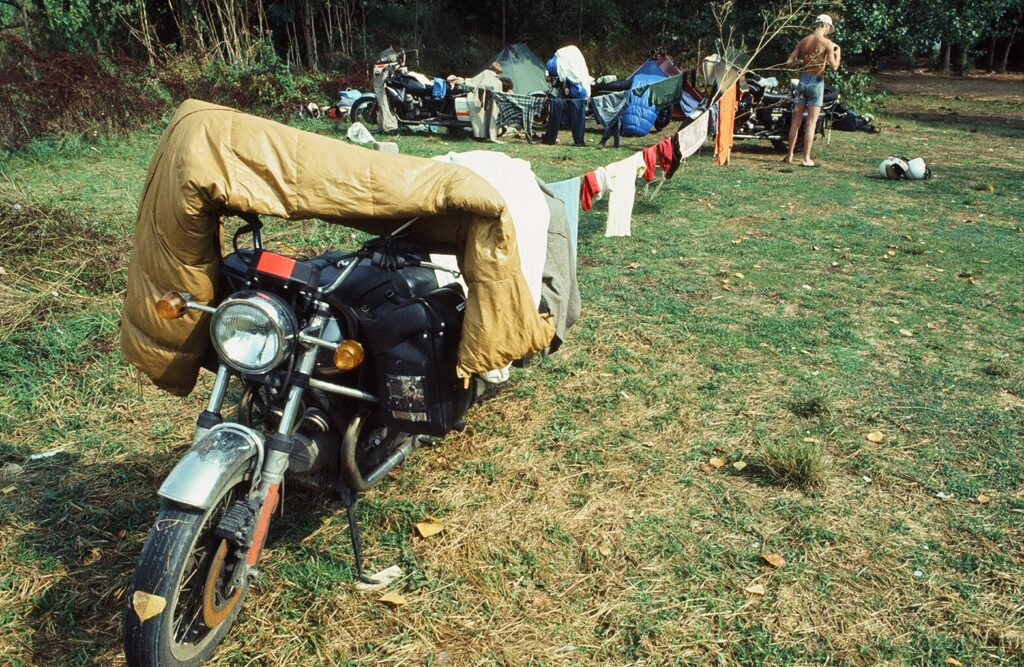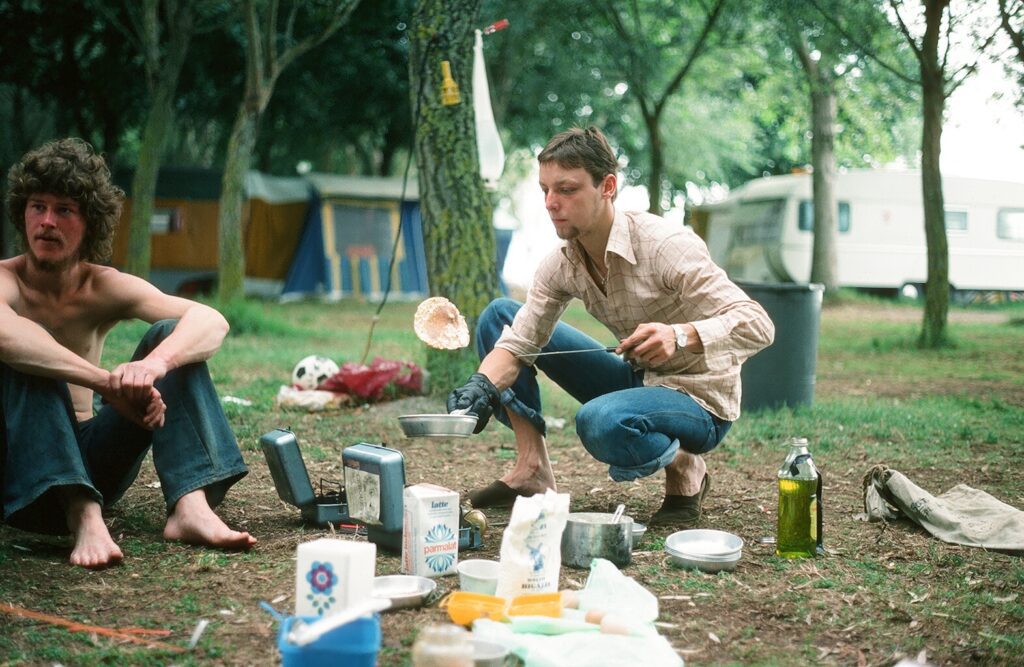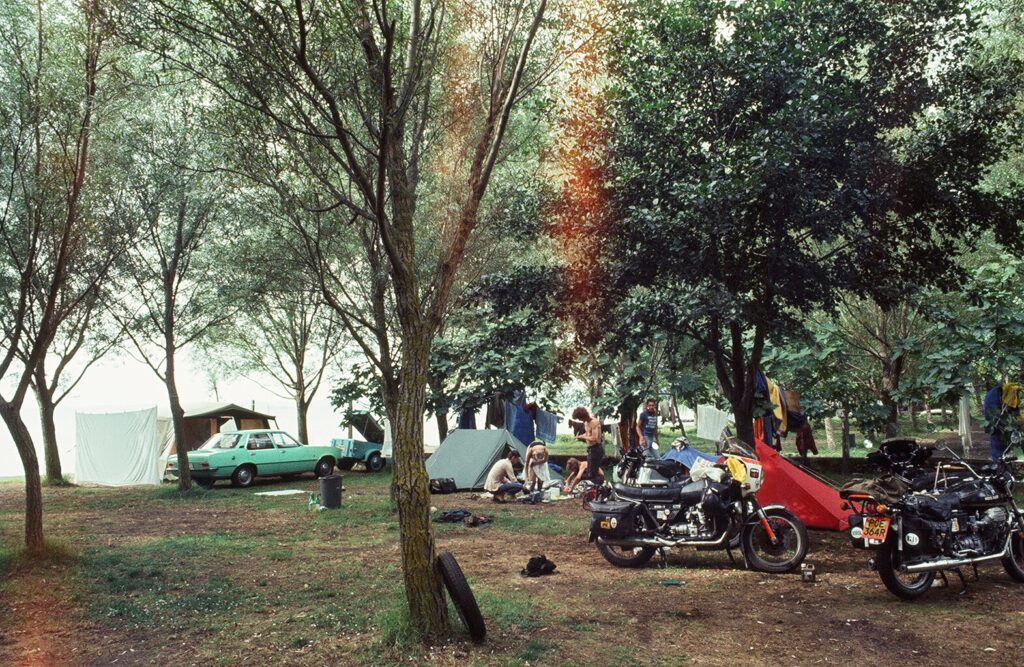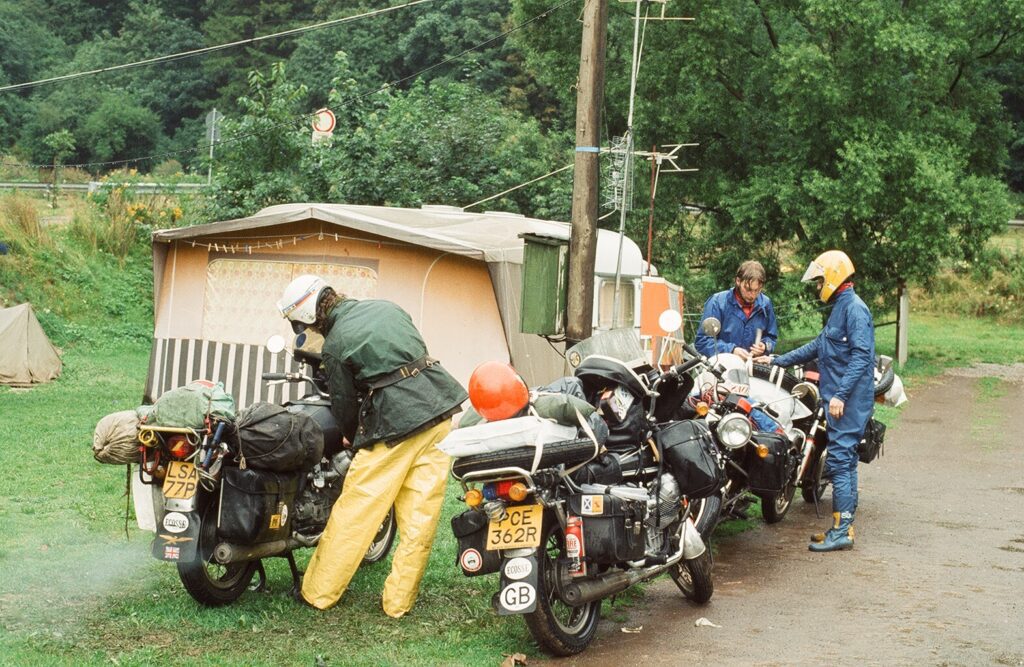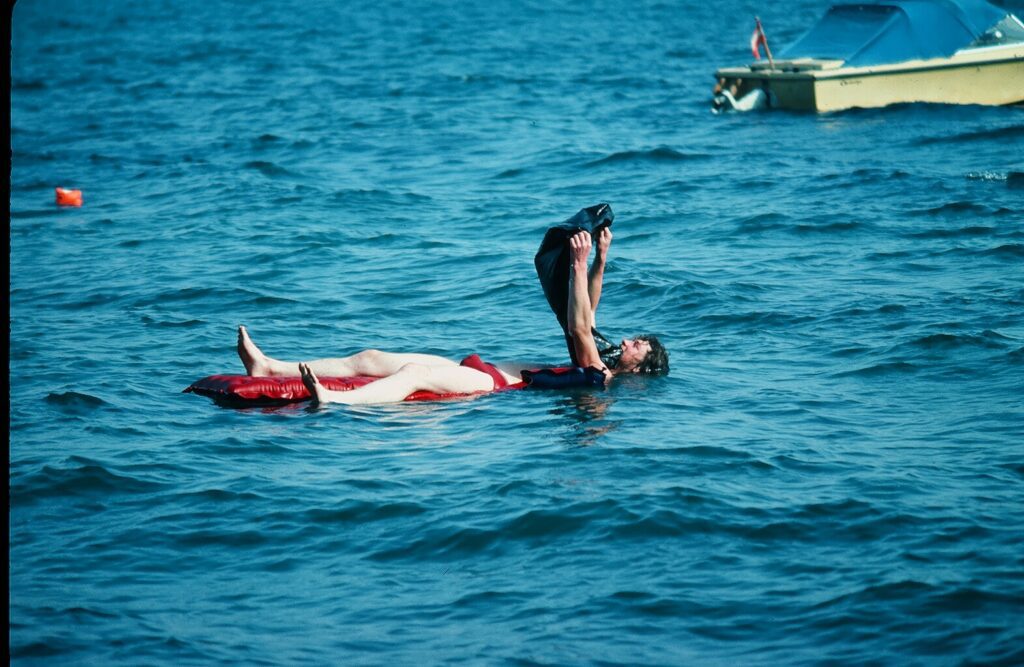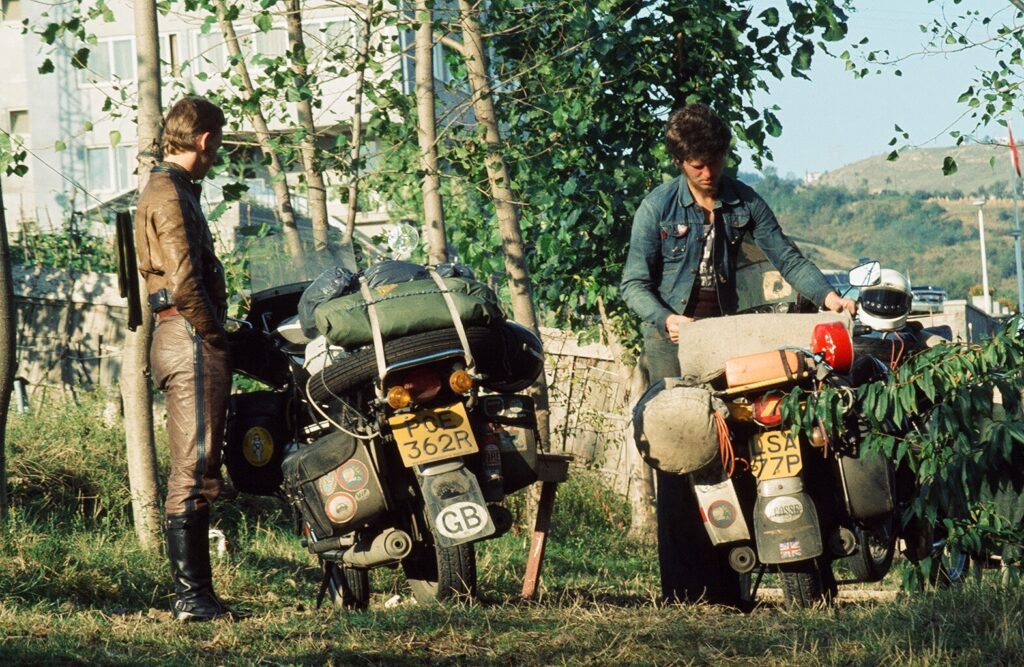 27th August  1977 – 'Woke to cloudy sky and a cloudy head! Had some tea and got ready to go shopping, into an ancient town with Rod, we ended up buying two new cooking pots. Looked around town and tried to get a parcel sent, no chance! Came back to camp and changed oil and filters. Changed front tire, oil cables and point pads. Stew fitted rear tyre and did oil change. Shaun changed oil. So did Rod. Mark had his done in Mandello. Shaun made spaghetti Bolognese. Best we've had so far! Mark broke the eggs on way back from town….Having early night.'
28th August 1977 – Last night was very windy with some heavy showers, everything had calmed down and dried up by about 8pm. I cooked pancakes for about three hours with about four sittings, an excellent feed. Just getting everything is packed up ready for an early start. Rain is starting. Had a good snooze and then Rod, Mark and I went for a wander, but it's raining of course. Lazed about and read, then had a great meal of potato stew and fruit salad. Not one bike was started today. Very windy. Going to bed early.'
29th August 1977.
6649 miles.
Arrived in Rome at 9:10am after a good drive from the campsite we got up at 5:15am. Had a near miss with a huge cow which walked across the road in front of us! Spent a couple of hours driving around Rome, really insane here, I've never been through so many red lights in my life! Taking photos of the Coliseum while writing. Found Moto Guzzi and Kawasaki spares, excellent! The people on bikes in Rome were really friendly, we must've followed about five bike guys, all of them said follow me! Sitting outside a supermarket just now Shaun doing some shopping. It's all very hot and sweaty. Drove out of Rome again – the last thing you want when driving here is a faint heart. Trucked about 60 miles out of Rome and made camp in a vineyard, we then make Spanish omelettes for tea. Today's riding was really enjoyable!  The bikes got very hot but don't appear to be any worse for wear. Drove most of the day with just a T-shirt no helmets. Rod bought new rear tyre, Mark bought new jet, Stew and Shaun got new gloves'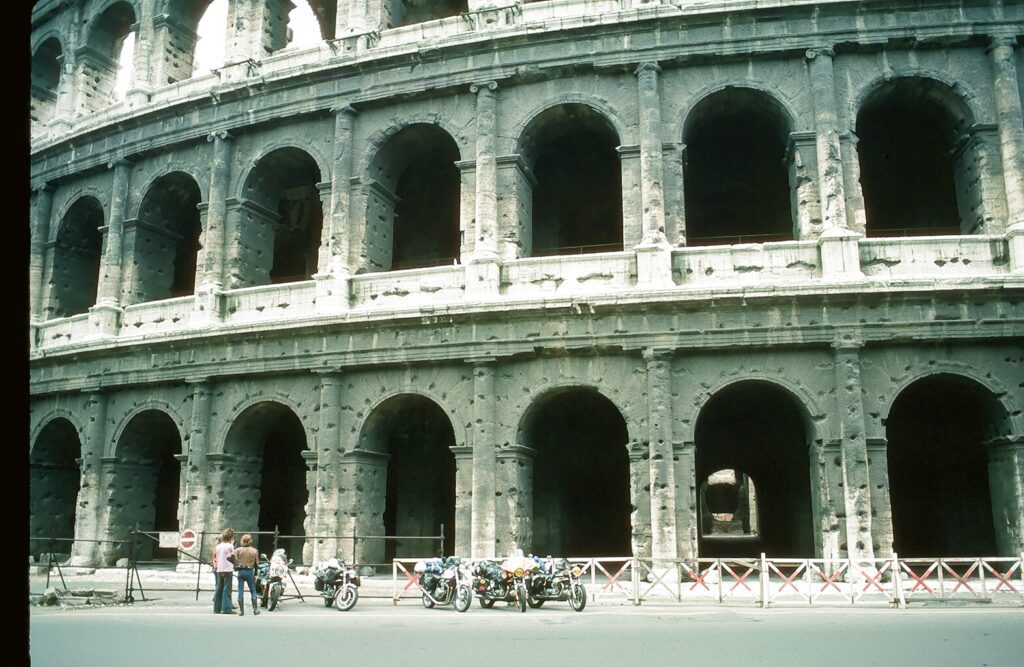 30th August 1977 – 'Rod took photos of the sunrise, having fried mushrooms and tea for breakfast.'
6769 miles
 'The morning was spent in Monte Cassino. Such a great road up to the monastery. Came back down and trucked on. Then disaster, a really bad corner! My back slid about a foot, Rod went wide and poor Shaun came off. Slightly cut and bruised, but okay. The bike has a bent foot rest, wiped off plug and cap, damaged pannier and fairing. We then drove along some crazy roads, really nice open roads with piles of dirt and big gaps at various intervals. Scenery all day has been really good and varied from mountains to vast flat plane areas. It has been the hottest day so far. Arrived at Margarito, but couldn't find a decent campsite. Went to a bar and met a guy who took us to his campsite.'
31st August 1977 – 'Weather dull today, washed our clothes but can't dry them, as thunder and heavy rain is starting, so must pack quickly and go! Drove towards Bari, we had to stop and put on our wet gear, heavy showers!
Next, we're off to Greece.