Combining some of the best roads and riding in Scotland with great food, amazing company, and the occasional biking celebrity thrown in, The Highland Scramble should be on your must do list for next year.
It was when we pulled up on a glamping site on the outskirts of Edinburgh, met by trip organiser and owner of bikerbnb.com, Tim Stevens, and saw the variety of bikes parked up ready for the trip that we knew this was going to be a great long weekend away.
From the Yamaha Tenere 700 I was riding to a Triumph Thruxton R, Harley-Davidson Sportster, Moto Guzzi V7, KTM Adventurer, Triumph Scramblers, including a custom Scrambler owned by TV presenter Charley Boorman, and even a 1980's Honda XL750V, this was no ordinary adventure bike trip round Scotland. The idea of the Highland Scramble is to bring together carefully curated routes and refreshment stops with incredible riding and scenery, combining to unlock some of the best roads in Scotland. Throughout the trip we stayed at biker friendly places, all selected by the owners of the website . They even throw in professionally taken photos by organiser Tim's sister, Sals Stevens, who's a massive petrol head and an incredible photographer.
Fed, watered and with a VIP tour around one of Edinburgh's coolest and best restaurants, The Free Food Company, which uses only ingredients grown on site and where all meals are cooked on open fires, our group of 15 all tucked in to a few beers and settled in to our camping pod for the night, ready for a 220+ mile day of riding with our newly found riding mates.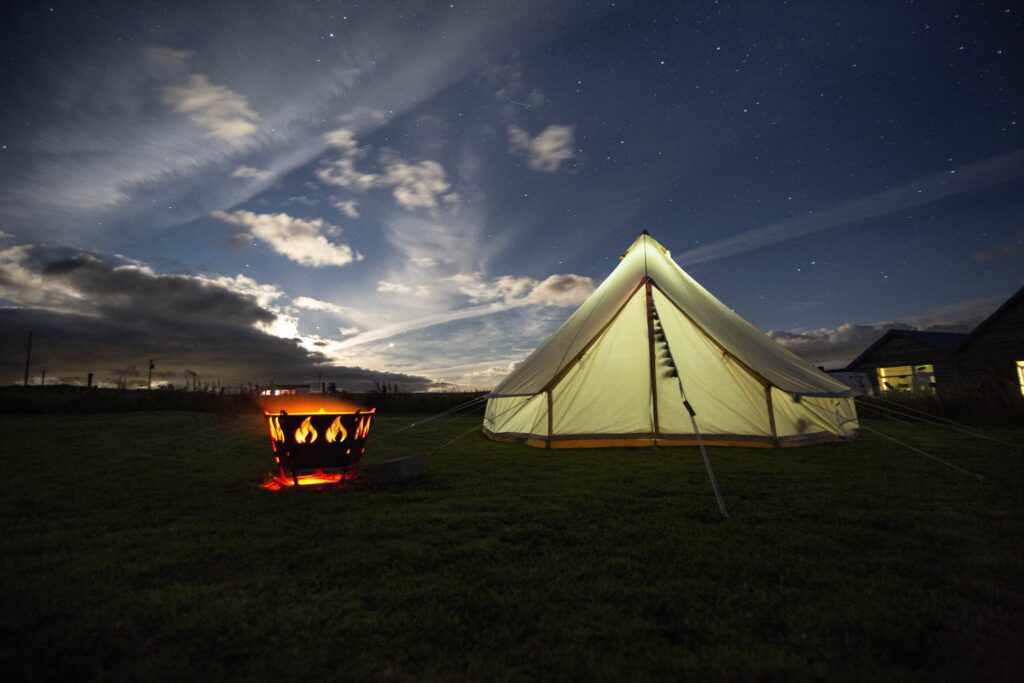 Day 1 – Edinburgh to Fochabers (220 miles)
Riding in groups is always tricky when you're not used to it, so today we were meeting and riding with new people, judging experience while trying to gauge everyone's pace. Luckily experienced guide Steve had taken us for a quick hour last night to settle everyone in and get rid of those first group nerves.
Sticking to the baffle of Steve's Akrapovic-kitted KTM Adventure we headed out of Edinburgh, to Falkirk, past the Falkirk Wheel and on to a single-track road to Callander. Steve, a former BA pilot who now lives in Spain, cracked a little wheelie up over a humpback bridge on his B-reg Honda XL750V. I knew we were with the right group!
With the route shut because of road works we find ourselves on the twisting heaven that is The Duke's Pass, a road I've ridden many times before on road tests for MCN, and head up for a photo stop at Loch Taye, in the town of Kenmore. The sun is shining, everyone is in the groove and the riding is getting better and better. But the best is yet to come. After some picture stops with TV's very own Mr. Adventure, Charley Boorman, we head into Pitlochry, and into the bottom of the Cairngorms. The riding is phenomenal, and some of the best roads I've ever ridden, including riding in Norway. The Cairngorms are empty (it's a day after lockdown was lifted in Scotland), and we continue past Glenshee and the Lecht Ski School for some pictures and past Glenlivet, before arriving in Fochabers and another glamping site, where we're greeted by smoked salmon and beer from Tim's Dad, Roy. It's all followed by a load more beers and smoked lamb on the barbecue, before a long night round the camp fire.
Saturday Day 2 ride: Fochabers to South Clunes
Nursing a small hangover isn't the best way to start a ride through the Cairngorms, but thankfully the Tenere is pretty easy going and takes my mind off it.
We head in a group up to Spean Bridge for lunch. There's plenty of sparks flying off some of the Harleys and the pace is fun.
We ride with Dandybiker David on his Triumph Thruxton R for a bit, and then leave Steve and his ageing XL750V behind, despite his best efforts!
Then it's Loch Ness, Fort Augustus, to buy some Nessie tat and stickers and on to Drumnadrochit where Tomo and I hook up behind Boorman and Tim, who's riding incredibly smoothly, with Charley throwing his customised Triumph scrambler around like it's a moped.
We are staying on private land down a farm track near South Clunes, in fantastic new glamping tents with comfy mattresses, with our own private loch and an African-style wooden lodge full of fires to cook our dinner of haggis, neeps and tatties on. After two days riding there's lots of tall stories and the group has really bonded, and there's a festival atmosphere to the camp. It's Instagram heaven with all the bikes parked on the side of the loch and the camp subtly lit.
Sunday, Day 3 ride South Clunes, NC500, to Ullapool and back
They say in Scotland that West is best, and that today's rain is tomorrow's whisky.
And when it comes to the West Coast and the coastline around Applecross and Shieldaig, they're not wrong. I've been riding all my life, and rarely have I spent a day riding in so much rain as we did on the Sunday in Scotland. But you know what, with the right kit on (Alpinestars head-to-toe in my case) it really doesn't matter. The coastline is dramatic with massive moody skies, waves crashing up against the rocks and more rain than I've ever seen before in a day on a bike. But, it's absolutely stunning.
One of the UK's highest passes, Bealach na Bah was covered in mist and an enduro bike would have been more suitable with the amount of gravel and rocks on the road, but with Boorman leading our group we blasted up the pass, dodging motorhomes. With a cup of tea and a bit of shelter at the Applecross Inn, the rain eventually eased before riding the coastline to Shieldaig, up to Ullapool, and then on to Inverness and back to South Clunes. With homemade pizzas cooked out of the back of a Land Rover Defender 110, and a load more beers, it was more like being at a socially distance festival with mates than a camp site, though I did manage to successfully avoid the whisky tasting, which my head thanked me for the next day.
Monday, Day 4, South Clunes to Edinburgh
When you know you're essentially riding home it's always a bit of a downer. Thankfully, the road through Glencoe makes it all worthwhile. Stunning is an overused word when it comes to Scotland, and Glencoe is probably the most stunning of all. Sadly, the caravan brigade has descended on Glencoe, so the empty roads of the Cairngorms and the West Coast are a thing of the last two days. But we chill and take in the scenery and enjoy plenty of photo stops in Glencoe, fill up at The Green Welly and make our way back to the glamping site near Edinburgh for a takeaway curry and a last night in Scotland.
After 2020's lockdown, getting to ride in Scotland felt like a really special treat, and the guys who run The Highland Scramble made it feel special in every way. If you fancy an escape from the world, make friends for life, enjoy some fantastic riding while never having to worry about the next fuel stop or think much about where you're headed, the Highland Scramble needs booking for next year. I'm definitely going back.
Check out The Highland Scramble for forthcoming dates here: www.bikerbnb.com