An Inherited Love of Motorcycles and Travel
By Sal Stevens, Marketing Director, bikerbnb
In the Stevens family, genes were not the only traits that were passed down from generation to generation. This half Scottish, half Welsh family shares a unique and fiery passion for mechanical machines, especially the two-wheeled variety. This enthusiasm has sparked many adventures, showcased raw courage that has perhaps bordered on foolishness at times, but throughout the decades, the Stevens' love of motorcycles has remained absolute. Today, the family has married their passion for motorbikes and the needs of two-wheeled travel together by founding bikerbnb, the first one-stop platform for motorcycle friendly accommodations. 
Bikerbnb differentiates itself from conventional booking platforms by reducing the time, effort and energy required to find housing along some of the best riding routes in the UK and Europe. The company also runs the popular Highland Scramble which is offering 10 curated adventures across the North of Scotland this summer.
It all started in 1936, when James 'Eric' Stevens bought his first bike, a 1933 250cc AJS. By just 1938, he was riding his fourth bike – a 1938 Rudge 500. Amazingly, he entered his very first race and won the 'Novices Class' at Park Hall, Oswestry, Shropshire . This was the start of his promising racing career. However, just one year later, with the outbreak of WWII, Eric embraced the call to arms and enlisted in the British Army.
Following the war, he continued racing and went to compete in the Manx Grand Prix in 1946, the Clubman's TT 1946 and the Isle of Man TT in 1947 on the BSA . At this point, he was offered a sponsored race bike by BSA. He once commented that 'It is a pity the bike vibrated to its own destruction'.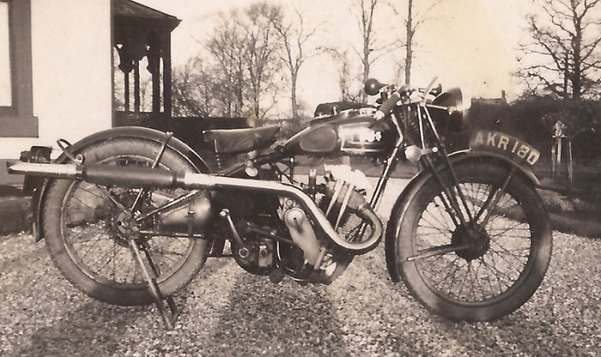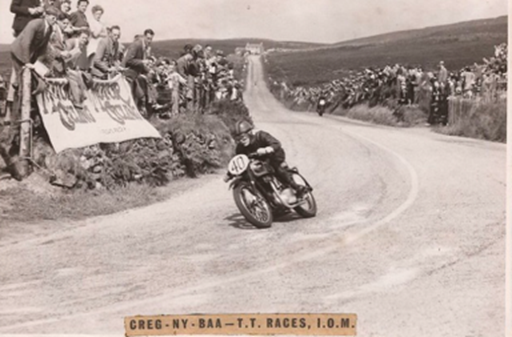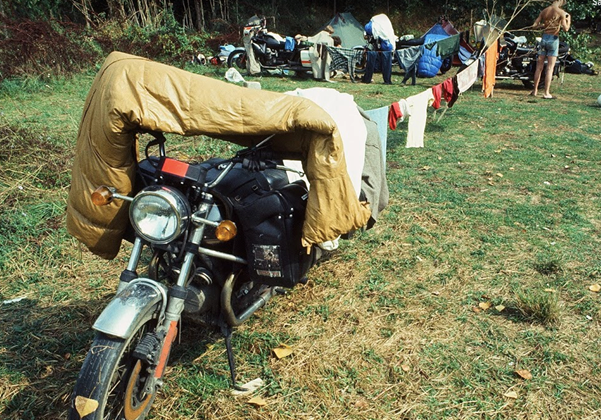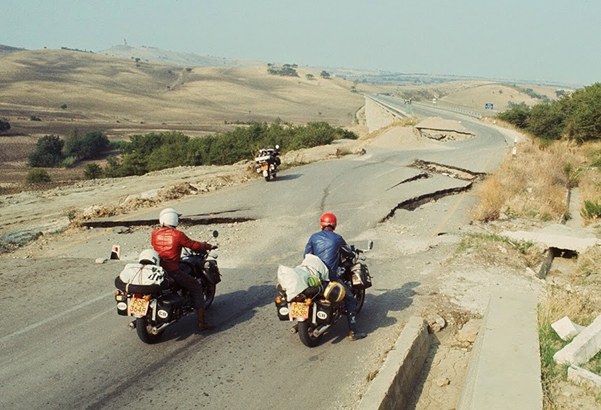 Both of Eric's sons, Mark and Roy, were inspired by their father's two-wheeled exploits and wanted wheels of their own even as children. Perhaps striving for 'Father of the Year Award', Eric bought a Trobike for the boys to ride in the garden. This first bike was the foundation of many lifetimes of riding adventures.
Their love for bikes was cultivated throughout their adolescence and in 1977, after missing a ferry to Australia, they decided 'lets ride there instead'. Within a few months, Mark and Roy had convinced some local friends to buy new bikes and acquire visas and depart Inverness for a rough and tumble round the world adventure. On August 12th, 1977, five mates left home in the North of Scotland for Italy, Iran, India and eventually Australia. Amazingly, Mark and Roy and their three mates arrived successfully on three vintage Moto Guzzi 850 T3's, a Guzzi 850T and Kawasaki 900 Z1, but not without recording some unforgettable stories and photographs along their journey.
One of their fondest memories was being welcomed into Italy by beaming border control officials, delighted at the sight of three classic Moto Guzzis. During their travels, the group suffered from a swarm of angry bees in their leathers, aggressive lorries that pushed them off narrow roads, misfiring engines, food poisoning, a bout of hepatitis and countless breakdowns that helped build character and a lifetime of memories in just eight months on the road.   
After returning home from his ride to Australia, Roy and his wife Pam settled down outside Inverness and had a baby boy and girl. As their two children grew, Roy began to notice that his daughter Sally had caught the petrolhead bug and 'demanded' a quad bike of her own to race around the garden just like him. Her barbies didn't cut the mustard! She had a need for speed and wanted to go places just like her Dad! Starting out on a Suzuki LT80, Sally gained her confidence, working her way up the ladder and eventually learning to balance a Yamaha PW80. Later, she would buy a Yamaha TTR 125 and a Honda CRF 150R for trail riding around her croft. Soon, she was ready for the road and obtained her motorcycle license.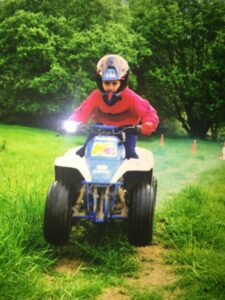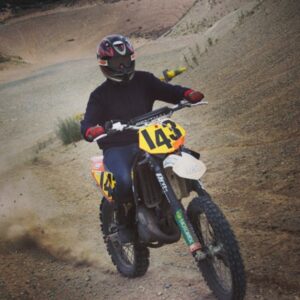 Sally's older brother Tim started his motorised life at the age of eight with go-karting and represented Wales despite growing up in Scotland. Although Tim started on four wheels, he soon fell in love with his father's Moto Guzzi. Naturally, Tim's first road-legal bike was a Moto Guzzi V7. Now in Barcelona, he also rides a Triumph Bonneville where he gets to embrace riding in the sunshine most days of the week.
During the summer of 2017, Roy overhead his son Tim having difficulty booking a Scottish motorbike trip for himself and his fiancé. Roy asked if Tim had found anywhere that offered secure off-street parking, drying facilities, nearby catering along memorable riding routes. That evening, they spent hours searching for the perfect motorcycle-friendly accommodation, when Roy eventually said, I should just list our house on this website and call it 'bikerbnb'! This idea raised eyebrows around the table and quickly smiles spread from ear to ear.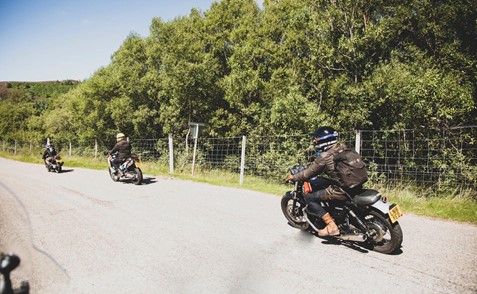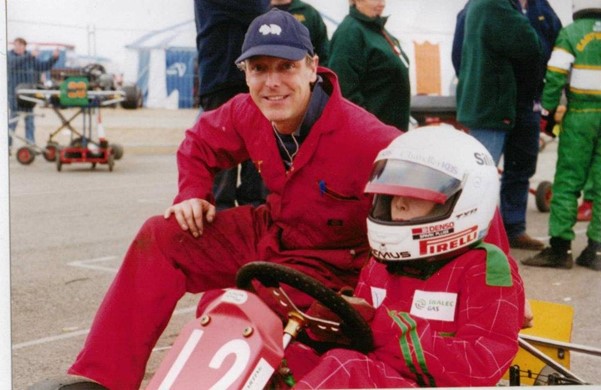 Three years into building the business that is now bikerbnb, there have been many accomplishments. One that stands out the most, was welcoming our CEO, Steve Erbrick to the bikerbnb family in November 2019. Steve is from the U.S. and moved to Scotland to get his MBA from the University of Edinburgh. Steve's passion for motorcycles more than aligns with the Stevens' family, so this was a natural match for the business and its founders. Steve has brought more than his passion with him. He's also brought his lovely wife (that also rides a Moto Guzzi) and a furry companion Munro to Scotland.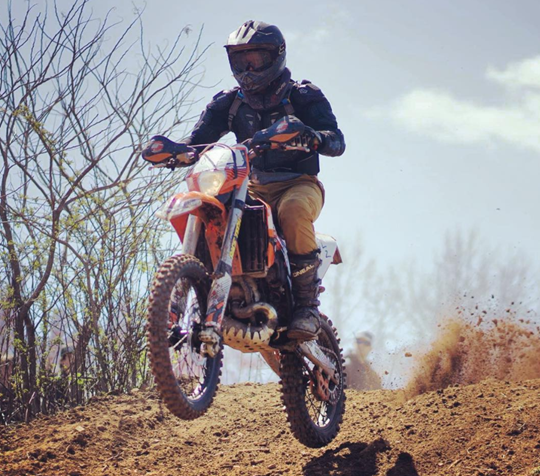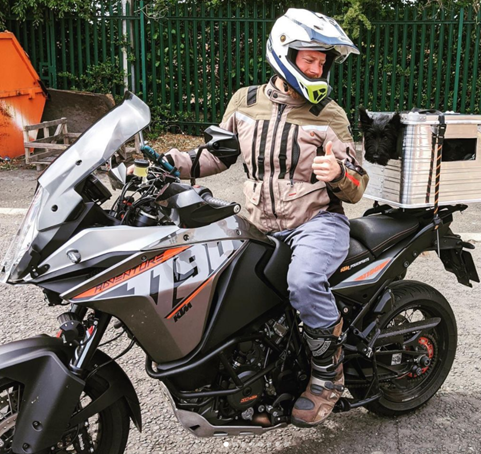 Looking ahead, bikerbnb is investing in its booking platform, expanding its popular Highland Scramble events and is now offering a fleet of Triumph Scramblers and Royal Enfields from Edinburgh and Inverness. Despite the challenges of travelling over the past year, the team remains dedicated to improving how motorcyclists plan, book and travel. We hope to help you on your next adventure…even if you're only going to Aberdeen and not Adelaide.
If you want to hear more about Roy and Marks Stevens' overland journey from Inverness to Adelaide, be sure to follow us on social media (@bikerbnb & @the_highland_scramble) and online through this blog where we will be sharing first-hand accounts over the coming months.