The Highland Scramble: The Traverse
THE TRAVERSE IS A METICULOUSLY CURATED ROUTE THROUGH THE HIGHLANDS EXPLORING AMAZING ROADS, BREATH-TAKING SCENERY & LOCAL PRODUCE.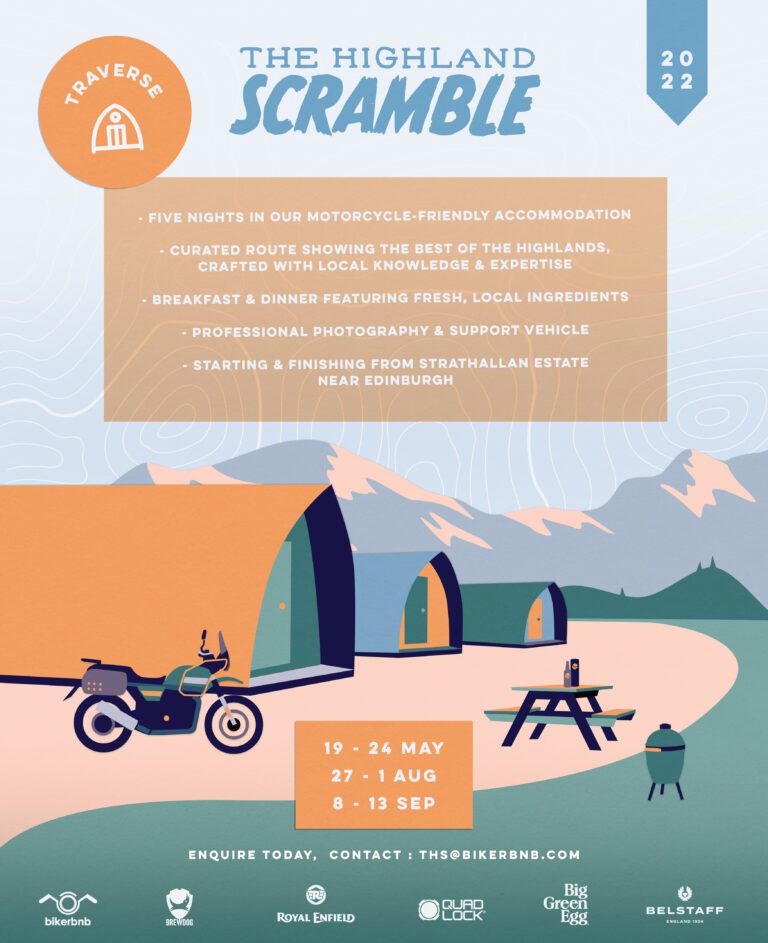 FIVE NIGHTS ACCOMMODATION, BREAKFAST AND DINNER INCLUDED, STARTING AND FINISHING FROM EDINBURGH
– CURATED ROUTE SHOWING THE BEST OF THE HIGHLANDS CRAFTED WITH LOCAL KNOWLEDGE & EXPERTISE 
– FIVE NIGHTS IN OUR MOTORCYCLE FRIENDLY ACCOMMODATION  
– BREAKFAST & DINNER FOCUSING ON FRESH LOCAL INGREDIENTS- LUNCH IS NOT INCLUDED, ALTHOUGH WE HAVE HANDPICKED A GREAT LOCAL SPOT EACH DAY 
–  PROFESSIONAL PHOTOGRAPHY
– OUR SUPPORT TRUCK  WILL BE AVAILABLE IN THE EVENT OF A BREAKDOWN AND WILL ALSO TRANSPORT LUGGAGE & FUEL
– NOW OFFERING MOTORCYCLE HIRE FEATURING ROYAL ENFIELD INTERCEPTORS AND HIMALAYANS – PLEASE SPEAK TO A MEMBER OF TEAM FOR A QUOTE TODAY
IF YOU WOULD LIKE TO FIND OUT MORE ABOUT OUR EVENTS, PLEASE EMAIL THS@BIKERBNB.COM WITH ANY QUESTIONS
19 – 24 May 2022
27 July – 1 August 2022
8 – 13 September 2022
WE ONLY HAVE 15 PLACES PER RIDE, TO RESERVE A SPACE WE REQUIRE A 25% DEPOSIT
Locally-sourced food and beverages
Refueling our guests each night is a ritual on The Highland Scramble. We only serve the best locally-sourced foods. No man or woman will go hungry…
Can't join us? Want to plan your own trip? Check out our website to find a large range of motorcycle friendly accommodation.
Just finished, The Highland Scramble, it was the most incredible trip, around 960 miles through the Highlands of Scotland, the roads are unbelievable, the scenery, the mountains just incredible. The food was amazing, the accommodation excellent with lovely glamping and wild camping sites along the way. If you love motorcycling and want to do a trip this is the one to do.
Combining some of the best roads and riding in Scotland, with great food, amazing company, and the occasional biking celebrity thrown in, The Highland Scramble should be on your must-do list for next year. We all need a bit of escape after lockdown, and getting to ride in Scotland felt like a real special treat. The guys who run The Highland Scramble make it memorable in every way. If you fancy an escape from the world, new friends for life, some of the best riding in Europe, and never having to worry about the next fuel stop, or where you're headed, just follow the bikerbnb leader! The Highland Scramble needs riders for next year. I'm definitely going back and can't wait.
Highly, highly recommend the Highland Scramble and BikerBNB. Recently completed the July Scramble 2021, hired an Enfield Interceptor 650. The bike was fully serviced by Steve (who also rides with the group) and the bike ran brilliantly, a fun bike to tour Scotland if you don't fancy the ride up from far away (like me!) The team - Tim, Steve and Sally who run the business are bikers and foodies, who live and breathe Scotland. You will not find more knowledgeable people will show you the best Scotland's roads and food have to offer. As we rode into each destination, cold drinks and food were ready for all the riders. Each accommodation stop was really comfortable, and in outstanding locations. They are super friendly too, nothing was ever a problem, great service! We had the trip of a life time and will no doubt be back again in the future. Thanks Guys